For the curly heads among us!
Do you also suffer from unmanageable curls in this winter period?! The curls sag, they get fluffy and you lose volume. A nightmare for the real Curly Girls among us!

Shall I tell you my routine? I use the Keune Care Curl Control line from Keune Haircosmetics. It consists of a Shampoo, Conditioner, Mask, Boost Spray and a Defining Cream. What does the Keune Curl Control do? The Keune Curl Control provides soft, bouncy and frizz-free curls. Curl Control has been developed for people with beautiful curly hair. The keratin proteins in the products rejuvenate the hair fibers in the hair, resulting in stronger curls with a healthy hair structure and well cared for strands. The raspberry seed oil in the products moisturizes the curls and makes them soft and manageable. The oil also ensures that the curls are frizz-free. This oil is rich in vitamin E and the fatty acids omega 3, 6 and 9. The wood-based Curl Bounce System strengthens the curls and gives them a new life. The result: strong, shiny, elastic and bouncy curls.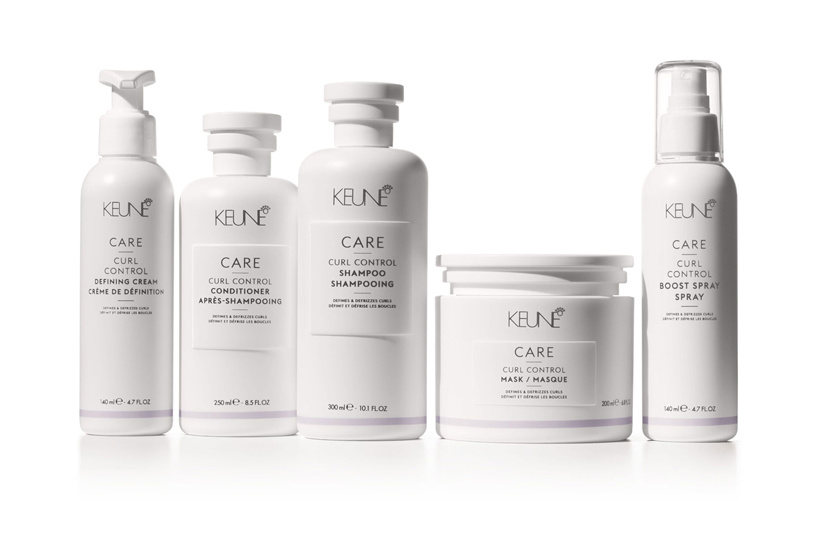 My routine: I start by washing my hair with the Curl Control Shampoo. I wash it twice in a row. The first time to remove dirt, and the second time to take care of my curls. After washing, I take care of my lengths with the Curl Control Conditioner. I leave it on for 1-3 minutes and then rinse my hair with lukewarm water.

One in every three washes I take care of my hair by using the Curl Control Mask. I leave it in for 5 minutes and before rinsing it out I brush everything through so that my hair is free of knots. After washing, I dry my hair with an old T-shirt or a microfiber towel to reduce frizz. Now my hair is clean and cared for and we move on to styling! First, I spray the Curl Control Boost Spray into my hair. This spray takes care of and moisturizes my curls, it also gives extra strength! Spray it lightly in the lengths and mainly on the roots of your hair for extra volume. Then I take two pumps of the Curl Control Defining Cream and distribute them over the lengths of my hair. The Defining Cream actually does exactly what it says. It takes the frizz out of your hair and defines your curls. It also makes the curls nice and soft and shiny! Scrunch your hair by hanging upside down and kneading your hair with your hands for more stroke/curl in your hair. The last step is blow-drying. I blow-dry my hair with a diffuser. This creates a nice curl, but it also creates volume! Make sure your hair is completely dry. And there are the beautiful curls!

Tip: Need that little extra volume? Knead a small drop of Keune Style Ultra Gel in your lengths! Once you've blow-dried the hair dry, knead the hard layer out and you'll have an extra volume boost!

I hope I helped you a little! What is your curl routine?
Love,

Lisette